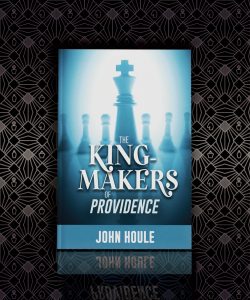 "If you choose not to get involved in politics, you leave major decisions to people like my characters." – John Houle
Henry Mercucio – Thirty year old lawyer and campaign consultant who ran Congressman McNally's campaign for Governor of  Rhode Island  and the primary consultant for the Providence mayoral election.
Lyndsay Sinclair  – Henry's girlfriend and a medical resident in the Medicine Pediatrics program..
John Campagna – Councilman from Providence's Silver Lake district and candidate for Mayor of Providence.
Raymond McNally – Former Congressman from Rhode Island, District 2, and current power broker and partner at prestigious Providence law firm.
Gordon Beako – Congressman McNally's former district director and Senior Vice President of CampCo Construction.
Mayor Jack Donovan – Currently the longest serving Mayor of Providence, Rhode Island.
Terry Silberman – Mayor Jack Donovan's chief of staff.
Danny Conroy – Special assistant to Mayor Donovan and Terry Silberman.
Frank Petrozella – Providence building developer and FBI undercover informant.
Michael Carbonerri – FBI special agent investigating Mayor Donovan's administration.
Jimmy Callahan – Deputy US Attorney for the Rhode Island district.
Billy Cavanaugh – Jack Donovan's cousin and an Irish Republican Army chief.
Jana Strakova – Lithuanian social worker living in Prague, Czech Republic.
Reginald "Reggie" Sinclair – Lyndsay Sinclair's father and a Southern industrialist.
Mary Sinclair – Lyndsay, Bridgit, Jenny and Julie Sinclair's mother and wife of Reggie.
Vincent – A Providence hood who sells designer suits
Nicholas "Nick" Dean – Partner in one of Providence's top advertising agencies
Malcolm Prescott – Republican candidate for Mayor of Providence and owner of one of Rhode Island's oldest companies.
Felix Salaso – Providence political operative.
Paul Campagna – State Representative from Providence and brother of John Campagna.
Representative Pagalini– State Representative from Providence and Democratic candidate for Mayor.
Senator Sarah Clark – State Senator from Providence and Democratic candidate for Mayor.
Lukas Reed – European arms dealer.